Contact Us
Contact Bellwether Dalmatians
Please send us a message if you have any questions about our Dalmatians, the Bellwether Dalmatian breeding program or what we do as Dalmatian breeders. 
Let us know if you are thinking about getting a Dalmatian and would like more information about the breed or about Bellwether Dalmatians' upcoming litters or future breeding plans. We are happy to provide information!
Pam and Jim Devlin
Bellwether Dalmatians

Brimfield, MA
Members of:
Dalmatian Club of America
Dalmatian Club of Southern New England
Pine Tree Dalmatian Club
Talcott Mountain Agility Club
US Canine Scent Sports
Tails U Win Canine Training Center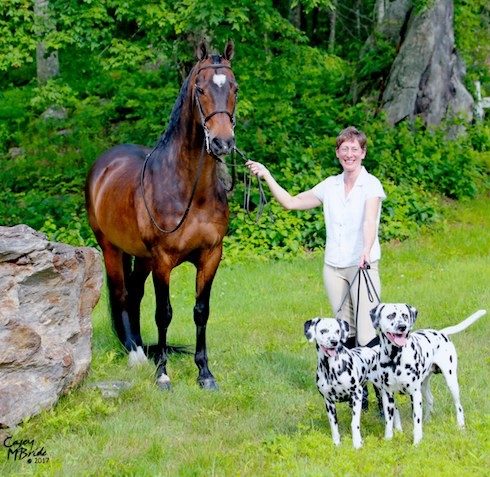 A little about us…
Our family's lifelong involvement with dogs began in the early 1990's with European working/performance German Shepherd Dogs. For several years I competed in the German dog sport Schutzhund- a triathlon of sorts, a competition/performance version of police K9 work. Our two girls were born in the late '90s and parenthood required a break from working dog competitions. When the girls grew a bit, their interests brought a different scene to our horizon and a resurrection of my first passion in youth- horses. It was a natural fit for our small New England farm life and the next decade was spent on the New England Morgan Horse show circuit, all of us competing in the saddle.
When the time came to return to dogs, we decided to look for a breed that would suit our active and often equestrian lifestyle. We wanted a dog to bring with us to the many horse shows we attend and a dog to keep up with us- hiking in the woods or running/walking/biking on the local bike path. We also wanted a dog who loves to snuggle on the couch when the day is done. We found all of this in the Dalmatian.